A Crude Scooter is a type of vehicle which is used to help speed up a player when travelling across land tiles. After it is made, it can be put in a player's inventory in order to get the extra speed benefit. This is particularly useful when travelling across extreme distances on a map for various tasks.
In a

 Basic Workbench, you can make a

 Crude Scooter by adding:
Known Bugs
Edit
While it is intended to be used with workerbots, at the moment having this crude scooter in their inventory does not offer any sort of benefit.
Using a Scooter
Edit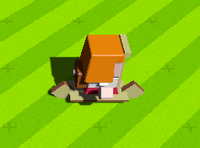 The scooter must be in an inventory slot for it to be used (not just carried). It only appears visually when a player is moving, disappearing when standing still.
Clothing
Decorative

 Sign

Food

 Apple •  Apple Pie •  Apple Pie (Raw) •  Berries •  Cooked Fish •  Crude Bread •  Milky Porridge •  Mushroom Soup •  Pastry •  Watery Porridge

Raw Resources

 Cereal •  Clay •  Dung •  Fish •  Log •  Metal Ore •  Milk •  Stick •  Stone •  Tree Seed •  Water •  Weeds •  Sand •  Mushroom (Dug) •  Pumpkin

Refined Resources

 Cereal Seed •  Charcoal •  Crude Gear •  Crude Wheel •  Wheel •  Fertiliser •  Flour •  Gear •  Metal •  Metal Gear •  Metal Plate •  Metal Pole •  Metal Sawblade •  Plank •  Pole •  Seedling •  Straw •  String •  Pumpkin seed •  Clay Pot•  Raw Clay Pot •  Mortar •  Crude Brick (raw) •  Crude Brick •  Flower Pot •  Flower Pot (raw)

Upgrades
Vehicles
Workerbots

 Basic Workerbot •  Crude Workerbot •  Steam Workerbot
 Beacon •  Crude Data Storage